The End
Mood:
crushed out
Now Playing: Home We Go!
This was our last day in Italia. We packed up our luggage at the hotel in Assisi and left it with reception for pickup later in the day.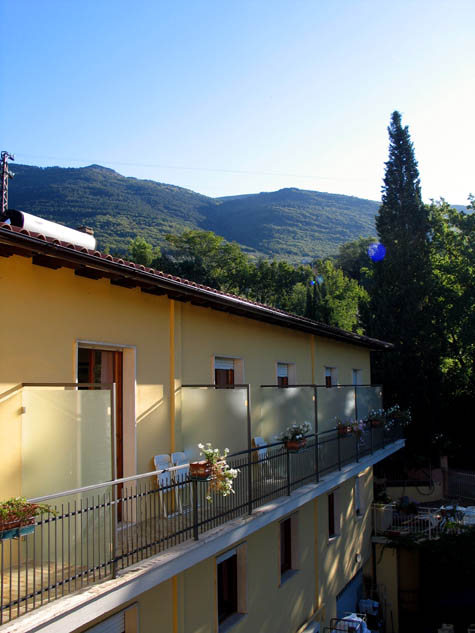 Another view from our hotel in Assisi.
It's a glorious day: sunny, cool, but not cold, we decided to try the town once again, this time without the weekend crowds. It was quite beautiful and enjoyable without the mobs. Our first destination was the Church of Santa Chiara (St. Claire), built in the 13th century. Apparently, Claire was a follower and contemporary of the ubiquitous St. Francis. The church looks very modern with it's flying buttress supports but it was built in 1247!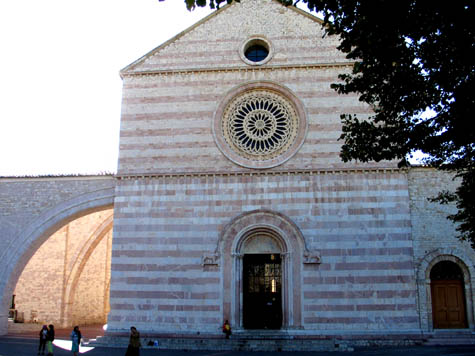 Chiesa Santa Chiara.
Then we walk to the other end of town to see the main attraction: the magnificent Chiesa San Francesco (Church of St. Francis). But on the way, we stop to see a hotel that intrigues us: Hotel Berti. It apparently is named for the family of our friend, Lori Berti (just kidding). Not only that but Lori's daughter is Chiara, so double bonus!
The Chiesa is beautiful! The entire town of Assisi is built into a mountainside and the church is the jewel of the crown that is the town. It's actually two churches, one built on top of the other and both supported by a series of massive arches. When Saint Francis, who dedicated himself to a life of poverty and simplicity, died, his followers immediately set out to built a church dedicated to him. But as things often turn out, his philosophy of modesty is not evident in the splendid construction and dedication of this outstanding church. In it are fabulous frescoes by Giotto and other masters.
The Chiesa San Francesco.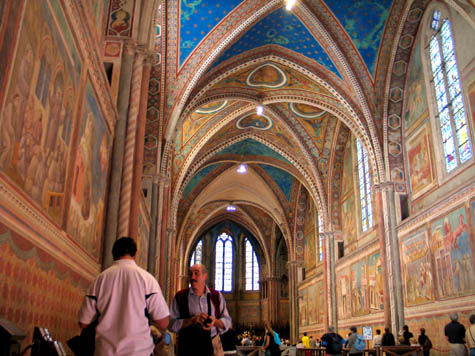 Photos were not allowed inside, but Matt took a quick grab shot.
We headed back to our car, parked in one of the satellite lots (cars are not allowed in town) at the far end of town, picked up our bags at the hotel and headed back to Rome. It was another fabulous drive through mountains and valleys, past the town of Perugia and finally back to Rome.
Our hotel this time is the Alemandi which is right outside the Vatican wall, but still convenient to the Centro Storico, our old stomping ground of last week. They even park our car for us which makes us very happy as there is
no
parking to be had virtually anwywhere in Rome.
Off we go into town (on foot). Our destination is Baffetto's pizzeria (once again, you might remember). It's our last night in Rome. The moon is out and bright...it's beautiful and bittersweet. We cross the Fiume Tevere (The Tiber River) as we walk into town. It's an incredible sight.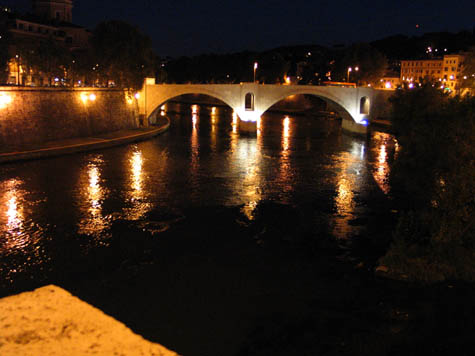 The River Tiber as we strolled into the old town.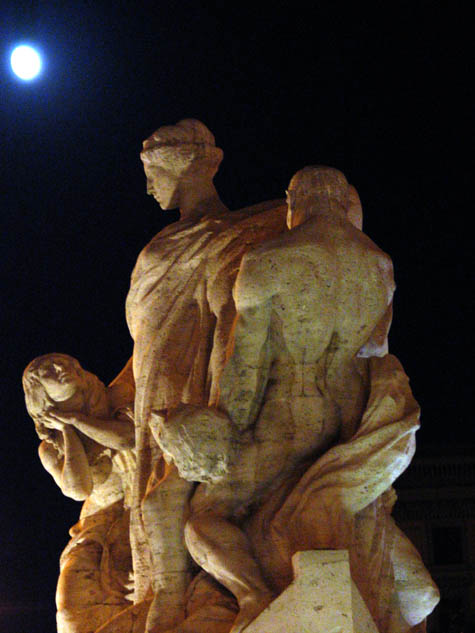 A quite romantic sight as we crossed the river. The moon was out and so were we.
We met a lovely young (very young) couple sitting next to us, Shari and Michael from New Jersey. They've just arrived; we're leaving. Unfortunately for them, their luggage is lost and they've been wearing the same clothes for several days. We trade experiences and favorite gellaterias and we join them for a walk to sample the ice cream at three different locations. We leave them near their hotel but we have a long way back to ours.
We hop a bus but it drops us on the wrong side of the Vatican and at 11pm we start walking around the entire Vatican and finally reach our hotel. What a night!
Sampling gelato: Stacey, Michael and Shari.
The next morning we're up at 6! Our bags are packed. Our car is waiting out front and we're off to Leonardo DaVinci Airport. Security is tight as we slowly make our way through many different checkpoints. But we're finally up in the air at 10: 45 and nine hours later we're back in New York....back in another world. It was three and half weeks of a trip we'll never forget. And we both promise to return to Italia again (and again).
Posted by nybicyclist at 5:39 PM EDT
Updated: Tuesday, 7 October 2003 5:48 PM EDT